Remembering Sue Biggam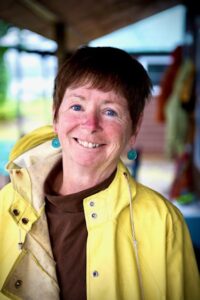 It's with deep respect and great fondness that we remember our colleague and friend, Susan Carey Biggam.  Sue was a guiding presence in our organization since the very start of the Vermont Reads Institute at UVM.  At VRI, she had many roles, including Associate Director, Bridging Project Consultant, and Coordinator of the Literacy Leadership Initiative.  But her role of "fun-maker", colleague, and friend was what we remember the most fondly.  Over the 15 years at VRI, she worked with hundreds of teachers and administrators and presented dozens of workshops.  Sue was a consummate collaborator—working always to find common ground, construct deeper understanding, and improve instruction.  And she devoted her life to this work because of her deep commitment to Vermont students, Vermont teachers, and the power of literacy to improve the world.  We miss her voice and passion.  
In the words of Marjorie Y. Lipson
"Sue Biggam was a force. If the issue or concern involved kids or literacy or teaching, she could not be stopped. She was absolutely committed to improving teaching and learning. She wanted to share with everyone what she knew, what she was thinking, and what she had created. What she created was almost always genuinely inventive. And, genuinely useful.  Her professional life intersected with an unusually productive time in the reading/writing/literacy arena, and she made the most of it.Very few people could translate research into practical application better than Sue.

That was because Sue Biggam was really smart. But, she wore her expertise with humility. Instead, she brought educators along. Listening to teachers, working with them, modeling for them, and always recognizing their growth was a hallmark of Sue's work. The state of education in Vermont is poorer without her in it.

Sue Biggam was also a deeply caring, funny, joyous, and committed friend.  She could make everything fun.  Anything at all could be the occasion for a game, a skit, or a song. Her friends already miss her. We are all richer for having known her and can only attempt to emulate the model(s) she set."
To read more about Sue and her incredible contribution to literacy in the state, please click here.
– Mary Grace, Executive Director of Partnerships for Literacy and Learning