There are too many incredible literacy and learning resources to mention, so in the spirit of collaboration and sharing, here are the ones we are engaged with currently.  These resources represent new and seminal research, topics our partner schools are addressing, and others are just for our own enjoyment and learning.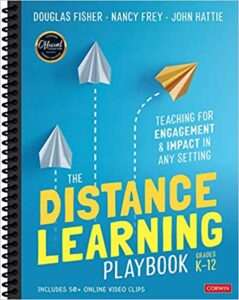 The Distance Learning Playbook, K-12 written by Doug Fisher, Nancy Frey, and John Hattie takes our "new normal" for teaching and creates a sensible researched approach for our future teaching whether it be virtually or face-to-face in classrooms.  The instructional mode is not the end all be all, it is using what we know about good teaching practices that are most important.  The authors remind us that we know some things about good teaching.  We know that our students learn more and do more when they have control of their learning.  We also know that our students need a variable set of instructional approaches with time to interact not only with the teacher but even more importantly with their peers. What we teach matters and how we gradually release this new knowledge to our students will impact their ability to transfer their new learning to new situations.  Our students need our feedback and support as they take new steps in their education.
The Distance Learning Playbook, K-12 takes what we know about instruction and allows us to play it out in our own instructional design. The book includes time for reflection with video clips to illustrate them in use by teachers with real students.  It follows closely what we know about increasing the social emotional well being of both students and teachers.  The text elevates our need to care for ourselves and our students.  It reminds us to develop a strong relational stance with our students over time.  The authors make use of the visible learning database first introduced to the field by John Hattie to provide the structure we need for successful student learning. Technology alone will not create successful learners.  Distance platforms combined with clear expectations, engaging tasks, peer interaction, and solid use of formative assessment and feedback can.  
This book will assure teachers that we can do this good teaching for our students, even in unrelatable times.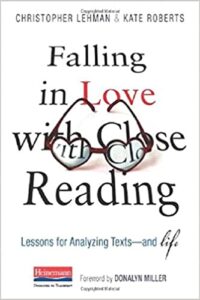 This is one of my all time favorite books.  It gets at the intensity of close reading, while all the while keeping in check the beauty and powerful nature of the text being read.  They ask readers to think about the text through 4 lenses:
Word choice
Text evidence
Structure
Point of view and argument
By showing our students how important these four lenses are for our deeper understanding of the texts we read, we give them the strategies to do it on their own.
This book is beautifully written with real teachers and students in mind.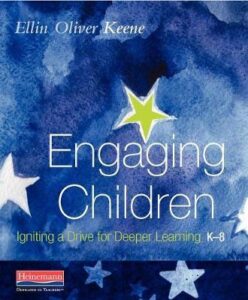 Ellin Oliver Keene hits the nail on the head with this book!  She considers what it means to truly be engaged.  She wonders if our students have ever experienced this type of engagement firsthand.  The author walks us through how we might teach for engagement while also modeling engagement with and by kids.  Her writing is based on the premise that we are engaged more deeply when these 4 pillars are included:
Intellectual urgency
Emotional resonance
Perspective bending
The aesthetic world
Our Go-To Coaching Resources:
Websites We Frequently Visit:
Articles That Deepen Our Understandings:
What We've Been Digging Into for Remote Learning: