Course Title: Vocabulary Instruction: Learning Words that Matter
St. Michael's College Credits: 3
Cost: $1575.00
Intended audience: teachers of grades 2-8
Time Frame:  September 27 – December 6, 2023
Instructor of Record:  Ellen A. Thompson, Ed. D.


This on-l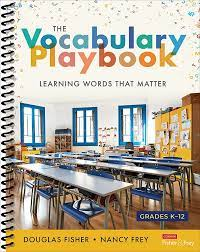 ine course will allow participants to understand more completely what the expectations are for teaching and supporting vocabulary acquisition and use.  All participants will use a Learning Management System to gain new content information, contribute to large group discussions, hand in and share assignments, and discuss readings, etc.
A student's ability to read depends largely on the size and quality of his or her vocabulary. However, despite that fact, vocabulary instruction has not evolved to the same degree as instruction in word recognition, comprehension, and other areas of literacy.  Participants will read The Vocabulary Playbook: Learning Words That Matter, K-12, by Douglas Fisher and Nancy Frey.  Participants will delve into the use of effective instructional strategies to promote deeper understanding on the part of the students. Participants will consider how to plan this instruction for both face-to-face and remote audiences.
REGISTER
Goals:
As a result of active participation in this course, students will:
Explore the areas of vocabulary instruction for elementary/middle level students in depth.

Reflect and discuss the many issues related to the teaching of  vocabulary.

Consider the implications this work has on classroom practice, both in class and remotely. 

Engage in dialogue concerning current word level policies and practices.

Map out a strategic plan for classroom-based applications.

Use this new learning to create a meaningful unit of study and/or research best  practices to promote deeper student understandings.

Collaborate with colleagues to develop a community of learners to support this new learning.
Learning Outcomes:
Participants will understand the importance of intentional vocabulary instruction as a means for continued student success as readers and writers.

Participants will understand what is most important for the successful teaching of vocabulary.

Participants will design a project of their choice to use in their teaching assignments and/or research best practices to promote deeper student understandings through the use of vocabulary instructional practices to share with others.
Required Readings:
Text: The Vocabulary Playbook: Learning Words That Matter, K-12, by Douglas Fisher and Nancy Frey, Corwin Literacy
Additional readings will also be assigned by instructor.
Ellen A. Thompson, Ed.D., Literacy Consultant

Ellen A. Thompson, Ed.D.

Ellen Thompson has been an educator for over 45 years.  She taught as a classroom teacher in Vermont for over twenty years, teaching children aged 6-9 years in a multiage setting. Ellen was named the Vermont State Teacher of the Year in 1993 and achieved her National Board Certification as an Early Childhood Generalist in 1999. Ellen began consulting nationally in 1993 and has continued this work throughout her years as an educator.  Upon leaving the classroom, Ellen joined the Elementary Education literacy faculty at the University of Vermont in 2000.  At the University, she taught undergraduate literacy courses, supervised student teachers, and worked as a literacy consultant in two large-scale literacy research projects spanned grades K-6. Ellen worked twelve years with the Essex Town School District as the Director of Instruction and Information Services.    After merging the Essex Town School District and the Chittenden Central Supervisory Union, Ellen continued working with educators in the newly created Essex Westford School District as the Director of Learning Design.  During this time, Ellen completed her doctoral studies in Educational Leadership and Policy Studies at the University of Vermont in the fall of 2007. Ellen is currently a literacy consultant for Partnerships in Literacy and Learning.