Saint Michael's College Credits: 3
Dates: July 10 – August 14, 2023
Contact Hours: 40+
Intended audience: Classroom teachers, grades K-6
Instructor: Ellen A Thompson, Ed. D.
Cost: $1,575 with 3 credits / $900 without credits
Location: Virtual – Asynchronous
Course Description:
This online course will allow participants to understand the vital components of teaching word study with diverse learners.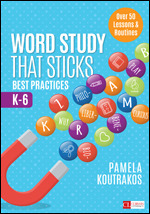 The course is designed to clarify how these multi-levels and multi-ages can be an asset for classroom word study learning. Participants will consider the brain research and the research about multiage classroom teaching as they look closely at their pedagogy used for teaching word study.
The book Word Study that Sticks Best Practices, K-6, written by Pamela Koutrakos, will help us revisit our word study teaching practices.  In this book, the author looks at three vital parts of word study instruction:
Creating a creative and curious word study environment

Fostering independence and engagement

Teaching for transfer
Using an inquiry approach for word study immediately draws our students in.  Word study becomes an active, vital part of instruction. Participants will explore the "sciences" of reading as it supports word study as one part of the learning process. We will discuss how to set up a word study block and use current best practices that allow children to use their growing understandings to unlock new and different words while reading and writing. Working with a sense of phonemic awareness, phonics, vocabulary, and spelling across the K-6 grade span, participants will see the importance of all four components for all children.  The research that supports word study will be read and applied within this course.  
REGISTER HERE
Course Goals:
As a result of active participation in this course, students will:
Consider and discuss the merits and facets of a word study block that promotes transfer

Explore and learn more about how the brain impacts our learning

Develop a deep understanding of word study as a means to create engagement in reading and writing

Consider the implications this work has on classroom practice to map out a strategic plan for classroom-based applications

Use the course precepts to create a meaningful investigation and research best practices to promote deeper student understandings of word study that matters

Develop an understanding of the use of the learning management platform (CANVAS)  to support learning and to support the learning of other class participants

Collaborate and reflect with colleagues to develop a community of learners to support  and understand current word study policies and practices as connected to research
Instructor Bio:
Ellen A. Thompson, Ed.D., Literacy Consultant

Ellen A. Thompson, Ed.D.

Ellen Thompson has been an educator for over 45 years.  She taught as a classroom teacher in Vermont for over twenty years, teaching children aged 6-9 years in a multiage setting. Ellen was named the Vermont State Teacher of the Year in 1993 and achieved her National Board Certification as an Early Childhood Generalist in 1999. Ellen began consulting nationally in 1993 and has continued this work throughout her years as an educator.  Upon leaving the classroom, Ellen joined the Elementary Education literacy faculty at the University of Vermont in 2000.  At the University, she taught undergraduate literacy courses, supervised student teachers, and worked as a literacy consultant in two large-scale literacy research projects spanned grades K-6. Ellen worked twelve years with the Essex Town School District as the Director of Instruction and Information Services.    After merging the Essex Town School District and the Chittenden Central Supervisory Union, Ellen continued working with educators in the newly created Essex Westford School District as the Director of Learning Design.  During this time, Ellen completed her doctoral studies in Educational Leadership and Policy Studies at the University of Vermont in the fall of 2007. Ellen is currently a literacy consultant for Partnerships in Literacy and Learning.