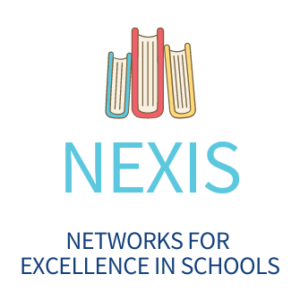 Title: Adolescent Literacy Partnerships NEXIS
Hours: 12+ independent implementation work
Dates: Thursdays 3:30- 5:30 pm March 16th and 30th; April 6th and 20th; and May 4th, 18th and June 1st (7 sessions total)
Intended audience: Individuals and teams of middle and high school literacy interventionists and universal-level teachers
Instructor/Facilitator:  Lisa Driver, EdD and Audrey Richardson, PhD
Cost: $625.00
Location: Virtual- Zoom
Registration Deadline: Friday, March 10th
Literacy intervention and instruction in middle and high school can be a challenging space to navigate.  Adolescent students often arrive at middle and high school with a complex literacy background and differentiating instruction to meet the needs of these students is essential.  Literacy support and intervention is layered on within the universal level instruction as well as in more intensive settings. In this NEXIS experience, literacy interventionists and universal-level teachers will work together to identify points of inquiry and engage in Plan-Do-Study-Act cycles to make equitable systems change in our schools and state.  This workshop positions literacy learning as a human right (Goodwin & Jimenez, 2019) and aims to support participants in their ability to provide students with the most targeted and equitable literacy learning experience possible. Participants will engage with the Active View of Reading (Duke and Cartwright, 2021) as a model to build a comprehensive understanding of where a student is likely to struggle based on their data and a framework of intervention that specifically targets that struggle. 
Participants in this workshop will focus on Component 4, High-Quality Intervention and Instruction from the VTmtss Field Guide to 
Define a common point of inquiry around secondary literacy intervention and instruction.

Introduce participants to effective data collection tools such as reader profiles and empathy interviews 

Engage in a facilitated PDSA cycle

Work to understand and define the necessary collaborations between intervention and universal instruction

Grow in their understanding of VTmtss
Who should join? Come as a team or literacy partners (interventionist and universal level partners)!  This process always works best with different perspectives and a focus on strong universal-level instruction through collaborative practices!
REGISTER
Bio:
Audrey Richardson, MA., NEXIS Program Coordinator

Audrey has been an educator for over 15 years as a high school English Teacher, literacy interventionist, and literacy coach in Woodstock, Vermont.  Currently, Audrey is a Ph.D. candidate at UVM in the Educational Leadership and Policy Studies program hoping to graduate in the Spring of 2022.  Audrey's central focus, in both her research and work with PLL, is the implementation of equitable systems that support literacy learning for ALL students. As PLL's NEXIS coordinator, Audrey is committed to bringing education stakeholders together from around the state to engage in actionable literacy change.  Audrey lives in Taftsville, Vermont with her dairy farmer husband and two daughters.
Lisa V. Driver, EdD, PLL Literacy Consultant

Lisa has been an educator for over 35 years in Vermont schools as a middle school teacher, literacy coach, literacy interventionist, and literacy coordinator. In 1993 she was named a UVM Outstanding Teacher for the FWSU Supervisory Union. Lisa completed her doctoral studies in Educational Leadership and Policy Studies at the University of Vermont in the spring of 2010. Throughout her career, she has worked to develop high-quality adolescent literacy instruction with a particular emphasis on struggling readers and writers. She has a passion for providing literacy instruction to ALL students. Lisa is currently a literacy consultant for Partnerships in Literacy and Learning. She lives in Georgia, Vermont, with her husband spending springtime making VT maple syrup!