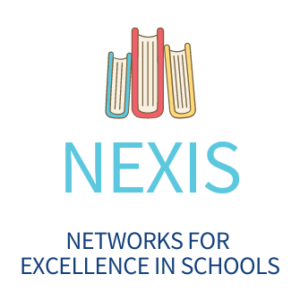 Title: NEXIS: Secondary Literacy Partnerships
Dates: Thursdays 3:30-5:30: 10/13, 10/27, 11/10, 12/8, 1/12, 1/26 (6 sessions)
Intended audience: Individuals and teams of middle and high school literacy interventionists and universal level teachers
Instructor/Facilitator:  Audrey Richardson
Cost: $625.00
Location: Virtual- Zoom
Hours: 12 contact hours plus some independent implementation work
Registration Deadline: Friday 9/30
Literacy intervention and instruction in middle and high school can be a challenging space to navigate.  Students in secondary schools often arrive with a complex literacy background and differentiating instruction to meet the needs of these students is essential.  Literacy support and intervention is layered on within the universal level instruction as well as in more intensive settings.  In this NEXIS (Networks for Excellence in Schools) experience, literacy interventionists and universal level teachers will work together to identify points of inquiry and engage in Plan-Do-Study-Act cycles to make equitable systems change in our schools and state.  This workshop positions literacy learning as a human right (Goodwin & Jimenez, 2019) and aims to support participants in their ability to provide students with the most targeted and equitable literacy learning experience possible. 
Participants in this workshop will focus on Component 4, High Quality Intervention and Instruction from the VTmtss Field Guide to 
Define a common point of inquiry 

Engage in a facilitated PDSA cycle

Work to understand define the necessary collaborations between intervention and universal instruction

Grow in their understanding of VTmtss

Begin decision making for the 2022-23 school year
Who should join? Come as a team or literacy partners (interventionist and universal level partners)!  This process always works best with different perspectives and a focus on strong universal level instruction through collaborative practices!
REGISTER
How does NEXIS work?
Like a networked improvement community (NIC), Networks for Excellence in Schools (NEXIS) is an outcome driven process, where participants embark on an active journey to respond to the current challenges in our schools. First, using our combined experiences, we will look at the issues we are facing across our varied educational environments.  Then using a problem solving stance, we will create the means to address these inequities of both teaching and learning by engaging in the following understandings:
The work is problem-specific and user-centered.

Variation in performance is the core problem to address.

See the system that produces the current outcomes.

We cannot improve at scale what we cannot measure.

Anchor practice improvement in disciplined inquiry.  

Accelerate improvements through networked communities.
Bio:
Audrey Richardson, MA., NEXIS Program Coordinator

Audrey has been an educator for over 15 years as a high school English Teacher, literacy interventionist and literacy coach in Woodstock, Vermont.  Currently, Audrey is a Ph.D candidate at UVM in the Educational Leadership and Policy Studies program hoping to graduate in the Spring of 2022.  Audrey's central focus, in both her research and work with PLL, is the implementation of equitable systems that support literacy learning for ALL students. As PLL's NEXIS coordinator Audrey is committed to bringing education stakeholders together from around the state to engage in actionable literacy change.  Audrey lives in Taftsville, Vermont with her dairy farmer husband and two daughters.