Credit: 3 graduate credits from Saint Michael's College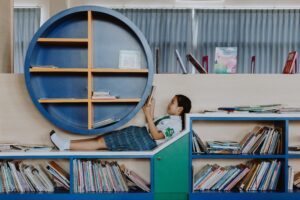 When: June 23, 2022 – August 11, 2022
Instructor: Sarah Miller, M.Ed.
Location: Online
Intended audience: Teachers of Students in Grades 7-10
Cost: $1,575 with 3 credits / $900 without credits (we can bill for either 2021-22 or 2022-23 school year)
Course Description:  In this course, teachers will read and analyze current, relevant texts for young adult readers.  We will address a range of genres, including historical fiction, realistic fiction, and nonfiction books that young adults read.  Participants can expect books in verse, graphic novels, and prose. It is important to note that the young adult texts in this course contain material that includes but is not limited to discussions of race, sexuality, gender, and addiction. This course values engagement in both online discussion forums.  There is an emphasis on practical applications of discussion and familiarity with current literature. Reading is a social act, and teachers will have the opportunity to engage with young adult text in a social as well as an analytical manner.
Some of the texts you'll be reading for this class include:
The Downstairs Girl
Hey, Kiddo
The Black Friend: On Being a Better White Person
Truly Devious
Far From the Tree
For more information about this course go to:  PLL PROFESSIONAL LEARNING COURSES PAGE
Bio:
Sarah Miller, M.Ed., Literacy Consultant

PLL Literacy Consultant

Sarah Miller has worked with teachers and students in Vermont schools since 2009. Prior to that, she began her career working with K-8 Dreamers at the "I Have a Dream" Foundation of Boulder County. Since then, Sarah has taught middle school English-Language Arts and Social Studies.  She has also served as both a school and a district Literacy Instructional Coach in Chittenden County. In 2012, Sarah completed her M.Ed. at Saint Michael's College in Reading. Across her years in education, Sarah has been focused on engaging readers and writers in meaningful ways, with access to literature and nonfiction that is relevant and accessible. She is particularly interested in supporting young people in developing robust reading and writing identities that build on their lives, interests, and passions. Sarah has worked to build vibrant literate communities in schools. Currently, Sarah is a literacy consultant with Partnerships for Literacy and Learning. She lives in Underhill, Vermont with her husband, son, daughter, two dogs, and a cat.