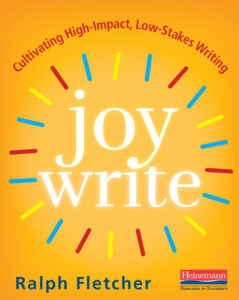 Credit: 3 graduate credits from Saint Michael's College
When: July 6, 2022 – August 16, 2022       
Instructor:  Ellen A. Thompson. Ed.D.
Location:  Online
Intended Audience: Teachers of Students in Grades K – 8
Cost: $1,575 with 3 credits / $900 without credits (we can bill for either 2021-22 or 2022-23 school year)
This course is designed to take an in-depth look at writing instruction in the elementary classroom, K-8. Participants will read and reflect upon Joy Write: Cultivating High-Impact, Low-Stakes Writing, written by Ralph Fletcher while examining their own practices and the practices of other influential teachers of literacy.  Participants will explore many ways to integrate the teaching of writing strategies into their existing or proposed instructional programs.   This course will examine the set-up for a writers' workshop as well as what is needed to teach and support student writers to become better writers as evidenced by classroom based and/or state assessments.  Much discussion will be spent on how to teach writing within an atmosphere that has as its outcome students who not only can write, but students who choose to write! The use of multiple assessments to inform practice will be shared.  Participants will be encouraged to share their own instructional successes and challenges in the area of writing development.
For more information about this course go to:  PLL PROFESSIONAL LEARNING COURSES PAGE
Bio:
Ellen A. Thompson, Ed.D., Literacy Consultant

Ellen A. Thompson, Ed.D.

Ellen Thompson has been an educator for over 43 years.  She taught as a classroom teacher in Vermont for over twenty years with many of those years in a multiage setting teaching children aged 6-9 years of age. Ellen was named the Vermont State Teacher of the Year in 1993 and she achieved her National Board Certification as an Early Childhood Generalist in 1999. Ellen began consulting nationally in 1993 and has continued this work throughout her years as an educator.  Upon leaving the classroom, Ellen joined the Elementary Education literacy faculty at the University of Vermont in 2000.  At the University, she taught undergraduate literacy courses, supervised student teachers and also worked as a literacy consultant in two large scale literacy research projects which spanned the grades K-6. For twelve years Ellen worked with the Essex Town School District as the Director of Instruction and Information Services.  During this time, Ellen completed her doctoral studies in Educational Leadership and Policy Studies at the University of Vermont in the fall of 2007.  After the merging of the Essex Town School District and the Chittenden Central Supervisory Union, Ellen continued working with educators in the newly created Essex Westford School District as the Director of Learning Design.  Ellen is currently a literacy consultant for Partnerships in Literacy and Learning.